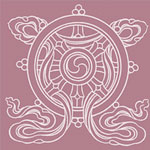 The vidyadhara Tukyi Dorje or Dorje Drakpo Trinley Dupa Tsal was an emanation of the dharma king Trisong Detsen. He was recognized as the fourth rebirth of the lord of siddhas Sonam Gyamtso and enthroned at his seat, Dzigar Tashi Choling Monastery. He offered the fruits of his crown to the omniscient Eighth Situpa Chokyi Jungne and received the name Kagyu Trinley Nampar Gyalwe De. He received countless profound dharma teachings from the Eighth Situpa, the omniscient Drukchen, the master Jampal Pawo, and Khampa Rinpoche Tendzin Chokyi Nyima. Especially, from the vidyadhara Tamdrin Gonpo he received many termas, including Ratna Lingpa's Vajrakilaya.
Dorje Drakpo perfected the practice of the generation and completion stages; saw the faces of many deities of the three roots, especially the peaceful and wrathful forms of Guru Rinpoche; and received their blessings.. When he visited Tsaritra, the spirit Chikchar Marpo offered him a wonderful stone statue of Arya Simhanada. There is an entire volume of profound dharma that arose spontaneously from Dorje Drakpo's mind, including his Wrathful Kilaya and his Red Tara. His mind termas have especially great blessing in the protection of crops from frost damage and of persons from injury caused by demon kings, as well as in the pacification of earth spirits. It appears that their activity has benefited many.
The principal heirs to Dorje Drakpo's mind termas were the Thirteenth Gyalwang Karmapa Dudul Dorje, Drukchen Chokyi Nangwa, Tai Situpa Padma Nyinje Wangpo, and other truly great beings; they included many of the lineage holders of all traditions, especially the Karma and Drukpa Kagyu. After enacting such vast activity, Dorje Drakpo displayed the manner of departure for other realms.