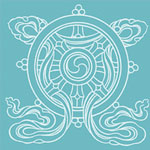 Traleg Kyabgon Rinpoche (1955-2012) was born in Eastern Tibet and recognized at the age of two by the Sixteenth Gyalwang Karmapa—head of the Karma Kagyu lineage—as the ninth incarnation of the Traleg tulkus. This lineage can be traced back to the time of Saltong Shogam, a contemporary of the First Karmapa Dusum Khyenpa.
Traleg Rinpoche was enthroned as the Abbot of Thrangu Monastery in Tibet before being taken to safety in India following the Chinese invasion of his country. There he continued the rigorous training prescribed for tulkus born with responsibilities as major lineage holders in the Tibetan tradition of Vajrayana Buddhism. This training included five years of study at Sanskrit University in Varanasi and several years at Rumtek Monastery, the main seat of the Karma Kagyu Lineage.
Not only did Traleg Rinpoche receive the complete teachings of the Karma Kagyu tradition of Vajrayana Buddhism, he also became well acquainted with the practices and philosophy of the Drugpa Kagyu lineage after spending nine years studying with the Regent of the Drugpa Kagyu, the late Dungse Rinpoche, at his monastery in Darjeeling.
Traleg Rinpoche settled in Australia in 1980 to make the teachings and practices of the Kagyu tradition available there. He established Kagyu E-Vam Buddhist Institute in Melbourne in 1982, Maitripa Contemplative Center in Healesville in 1997, Nyima Tashi in Auckland in 1999, and Yeshe Nyima in Sydney in 2008. Rinpoche traveled and taught in the United States from 1988 to 2010 and established E-Vam Buddhist Institute in Chatham, New York in 2003. Rinpoche also traveled widely in Europe, Canada, New Zealand, and Southeast Asia giving lectures and seminars on Buddhism and related topics. For more about the Traleg Kyabgon, please visit tralegrinpoche.org.