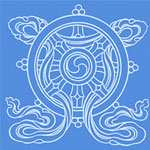 Born to a family of tantric practitioners in Chida in northern Tibet, the Seventh Karmapa, Chodrak Gyatso, dedicated much of his life to retreat. He was also an extremely accomplished scholar, who authored many texts, such as a commentary on Abhisamayalamkara called The Lamp Of The Three Worlds. His most famous text is The Ocean Of Reasoning, his commentary on pramana (logic and reasoning) literature.
The Seventh Karmapa formally established monastic universities at Tsurphu and other places. He also restored the large Buddha statue commissioned by Karma Pakshi at Tsurphu. Something of an activist, he settled disputes, worked to protect animals, initiated bridge construction, and sent gold to Bodhgaya for the gilding of the statue of the Buddha at the place of the Buddha's enlightenment. He also convinced numerous people to recite millions of  OM MANI PADME HUM mantras as a universal cure for all ills. Before passing into parinirvna at the age of 53, he provided details of his next incarnation and passed on the lineage to Tashi Paljor.
For more information on the Karmapa Lineage, please visit  kagyuoffice.org.