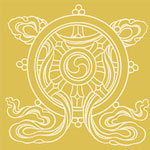 Born to a family of devoted Buddhist practitioners in eastern Tibet, the boy who was to become known as the The First Gyalwang Karmapa, Dusum Khyenpa, was called Gephel as a child. When he was thirty he received teachings from Gampopa, the heart son of the Milarepa, greatest yogi in Tibetan history.
His accomplishment in meditation and the practices transmitted to him by his teachers were greatly enhanced by his own natural compassion. His practice produced rapid results and great accomplishments. All the Karmapas since have been known for their ability to inspire, through their simple presence, this profound sense of wonder and faith in the reality of the accomplishment, which is the fruition of the Buddhist path.  In addition, Dusum Khyenpa founded several monasteries and established his main seat at Tsurphu in the Tolung valley in central Tibet.
He was the first Karmapa to present a prediction letter detailing his future incarnation. He gave it to his main disciple, Drogon Rechen, whom he chose to become the next lineage-holder.
"Nine hundred years ago, the First Karmapa, Dusum Khyenpa, inspired his disciples through his teachings and through the example of his life in a recognizable way so that he could continue caring for his disciples. As someone who developed a skillful compassion so intense it crossed even the normal boundaries of death and rebirth, he is famous as the first person in history to reincarnate.
When we speak of gurus, we generally distinguish between lineage and root gurus. The First Karmapa, Dusum Khyenpa, is the lineage guru who established the Karma Kagyu lineage. He is a lineage guru also in the sense that he is the wellspring of the long and unbroken series of masters and disciples who passed this Karma Kagyu lineage from one to the other in what we call the Golden Rosary.  All the goodness that these masters created in the world over the past 900 years can be traced to the original kindness of Dusum Khyenpa." – His Holiness the 17th Karmapa, Ogyen Trinley Dorje
For more information on the Karmapa Lineage, please visit  kagyuoffice.org.