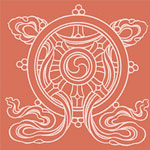 The Eighth Karmapa, Mikyo Dorje, was one of the most erudite and prolific scholars of the Karma Kagyu lineage of Tibetan Buddhism. Mikyo Dorje was born in eastern Tibet, to a family of devoted yogins, the eighth Karmapa was said to have spoken the words "I am the Karmapa" at birth.
He was one of the most renowned of the Karmapas, a great meditation master as well as a prolific and learned scholar, author of over thirty volumes of work, including very significant commentaries on the sutrayana treatises and pithy instructions on tantras. He was also a visionary artist, to whom we owe the Karma Gadri style of thangka painting—one of the major schools of thangka composition. Mikyo Dorje also composed many sadhanas, practice liturgies, and other devotional practices for the Karma Kagyu school.
For more information on the Karmapa Lineage, please visit  kagyuoffice.org.