Khenpo Lodrö Donyö Rinpoche enjoys a special connection to Noble Tārā and is uniquely qualified to present this composition and compilation. Rinpoche is acknowledged as a highly accomplished scholar and practitioner by many eminent beings who span all the traditions of Tibetan Buddhism and beyond. His rare combination of extensive learnedness and prowess in meditation imbues his teaching and writing with a unique depth and breadth.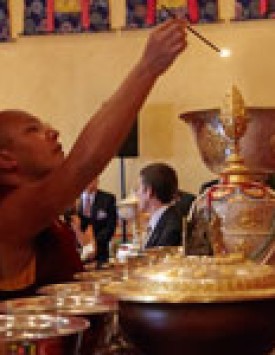 An Enchanting Array Of Assorted Jewels: A Commentary On Noble Tārā's Twenty-One Praises, Accounts Of Her Enlightened Activity And A Collection Of Supplications, Second Edition
by Khenpo Lodrö Donyö Rinpoche
translated by Eric Triebelhorn
2018
5.5 x 8.5 in. 432 pages
extensive full color illustrations
glossary and endnotes
The book offers a commentary on the renowned The Tantra of Praise, the Twenty-One Homages to the Noble Taras, recounting stories of the goddess Tara and her miraculous activity and compiling the praises to the beloved goddess. It also contains a collection of supplications to the goddess from Indian and Tibetan scholars of the past. Each verse is translated into English and explained, using each word of the praise in an expanded context to clearly elucidate its potentially ambiguous meaning. The commentary also offers synonyms for words that appear in the verses of the praise. The book is profuse with endnotes that clarify obscure terms and phrases.
Chapter One: The first chapter elucidates the history and the wondrous qualities of the foremost and noble Aryā Tārā, the sovereign of the enlightened activity of all the myriad buddhas; its purpose is to instill delight and appreciation. Green Tārā and White Tārā.
Chapter Two: The second chapter is a word-by-word commentary on the renowned King of the Tantras of Praise, The Twenty-One Homages to Noble Tārā, in the tradition of Suryagupta and in the tradition of Lord Atisha.
Chapter Three: The third chapter highlights her particular enlightened activities.
Chapter Four: The fourth chapter is a compendium of praises and supplications to Noble Tārā by the buddhas, bodhisattvas and eminent masters of India and Tibet.
Original publication, 2011, First Edition in English: Bokar Ngedon Choekhor Ling, Mirik Darjeeling India. Printed in New Delhi