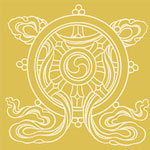 Yongey Mingyur Dorje Drakpo Nuden Tsal, who was born in the Lhatok region of Kham in 1628, was an extraordinary individual who embodied the wisdom and goodness of his tradition, Tibetan Buddhism, while transcending the status quo of its institutions.
In his early years he had visions of Padmasambhava, Karma Pakshi, Hayagriva, Vajra Varahi, and Mahakala and composed a guru sadhana for Karma Pakshi from a mind treasure received in a pure vision.
On one occasion the Kagyu lineage was severely weakened ...
Continue Reading →