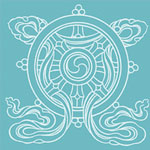 Khenpo Karthar Rinpoche is renowned and celebrated for his immeasurable devotion that knows no bounds, his unwavering steadfastness in fulfilling the commands of the Karmapa despite horrendous difficulties and obstacles, his attainment in mahamudra, his accomplishments in all monastic arts, his pure ethics and flawless morality, as a brilliant scholar, and as a skilled and inspiring teacher.
Born in eastern Tibet in 1924, Khenpo Karthar Rinpoche is one of the great living masters of the Karma Kagyu tradition. Rinpoche, who received most of his training and education in Tibet before the Chinese invasion, is highly accomplished in meditation, philosophy, and monastic arts.
Abbot of KTD and retreat master of Karme Ling Three-Year Retreat Center, Rinpoche has innumerable devoted students whom he continues to teach and guide with infinite generosity, compassion, and wisdom. After almost fifty years of spreading the Dharma outside Tibet, Rinpoche has a prolific body of work published in English, Spanish, and Chinese.
He is also known for numerous books, including The Quintessence of the Union of Mahamudra and Dzokchen; Dharma Paths; Instructions of Gampopa; Bardo: Interval of Possibility; The Wish-Fulfilling Wheel: The Practice of White Tara; and the five-volume masterwork Karma Chakme's Mountain Dharma. 
For more information on Khenpo Karthar Rinpoche's activities, please click here.
Khenpo Karthar Rinpoche has for many years engaged in extraordinary efforts to spread Buddhism throughout many countries in the East and West. Since by doing so he has truly caused the present and future happiness of many beings, he is worthy of praise. I therefore rejoice in this, and make the aspiration that every aspect of goodness may increase like the waxing moon.–The 17th Karmapa Ogyen Trinley Dorje.

Masters of this stature are becoming rarer than a star in the midday summer sky.–The 9th Traleg Kyabgön Rinpoche